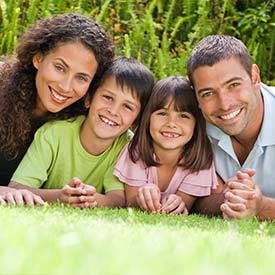 Brooks Family Dentistry is provided by our dental team and dentists, Dr. Struan Vaughan and Dr. Earl Pierson. We work together to address the oral health needs of everyone in your family. Your oral health has been proven to be a major factor in your health wellness. At Parkview Dental, we firmly believe that every patient deserves personalized care with the goal to create a lifetime of beautiful, healthy smiles!
Where Families are Always Welcome!
Parkview Dental offers Brooks Family Dentistry to provide you and your entire family with the care and education they need for a lifetime of healthy smiles.
Your Comfort is Important to Us
Parkview Dental accepts patients of all ages. We take pride in creating a friendly, gentle and comfortable atmosphere for our young patients because we believe that visiting the dentist can and should be an enjoyable experience. Our team of dental providers aims to create trusting relationships with your child because the experiences your child has with their dentist at an early age impacts how they will view dental care as an adult. Studies show that children who have positive dental experiences tend to visit their dentist on a regular basis into adulthood.
Parkview Dental invites you to tour our Brooks Family Dentistry practice and meet our dental team before you make your initial appointment. We want you to be confident in your choice to make Parkview Dental your Brooks Family Dentist right from the start.
Watch Benefits of Regular Dental Visits
Checkups and Preventative Dentistry
Parkview Dental provides Brooks Family dentistry services such as routine cleanings, examinations, and fluoride treatments. Regular dental appointments can identify problems early before they become more serious. In addition to our comprehensive dental examination, we use digital x-rays of the teeth and surrounding bone to diagnose cavities and any underlying concerns that could be developing beyond the naked eye.
We are trained to help you keep your teeth healthy and your smile bright between visits! Our dental team will give you tips and recommendations on brushing, flossing and rinsing to prevent plaque and tooth decay.
We Welcome Dental Emergencies!
Dental emergencies often come without warning and can be a very stressful time for everyone involved. If someone in your family experiences a dental emergency, please contact us as soon as possible, and we will do our best to determine the best course of action to help them. We offer same-day emergency appointments because providing you with pain relief is one of our top priorities.
Offering Comprehensive General Dental Services
In addition to being your Brooks Family Dentistry provider, we offer a full range of comprehensive dental services which include:
Parkview Dental is pleased to be your partner in oral health. Call today to make an appointment for Brooks Family Dentistry!
Our practice always welcomes new patients
no referral is ever required!
---